PRESS RELEASE FOR IMMEDIATE RELEASE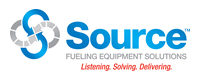 Addison, IL – July 2, 2013 – Source™ North America Corporation, the largest fueling equipment distributor in North America, is pleased to announce that it is has acquired the business operations and selected assets of California-based Commercial Petroleum Equipment (CPE) – a leading distributor of petroleum fueling and marketing equipment. Effective July 1, 2013, all CPE facilities will transition to Source branded facilities.
"We are extremely excited to have CPE employees join the Source North America team," said Glen Corkill, President and CEO of Source. "Source is already one of the largest stocking distributors in the USA, now with over a dozen facilities and more than 140,000 square feet of warehouse space across the country. This expansion greatly increases our footprint in California and allows us to better serve our customers all along the West Coast."
Founded in 1980, CPE provides a variety of fueling equipment, including fuel dispensers, nozzles, lights, fuel control systems and tank hardware. Now as part of Source, an even wider array of products and service will be available to CPE customers.
"I am happy to have CPE operations become part of Source", said Gary Carson, former President and Owner of CPE. "CPE was guided by the philosophy that we must strive to be leaders in our industry. I believe that Source operates under that same philosophy and is a perfect fit for CPE's vendors, customers and employees."
For more information on Source™, please call (800) 572-5578, or visit www.sourcena.com.
Source™ North America Corporation was founded in 1979 and specializes in providing equipment, parts and materials for the construction and maintenance of gas stations, convenience stores and petroleum & chemical handling facilities. Today, the company has 13 facilities with more than 300,000 square feet of warehouse space across the country, anchored by its central warehouse in suburban Chicago. You can find more information at www.sourcena.com.
---
Media Contact:
Darren Wight
Media Representative
513-280-0047 or dwight@deanhouston.com
Sales Contact:
Joe O'Brien, VP Marketing
Source North America
800-572-5578 or jobrien@sourcena.com